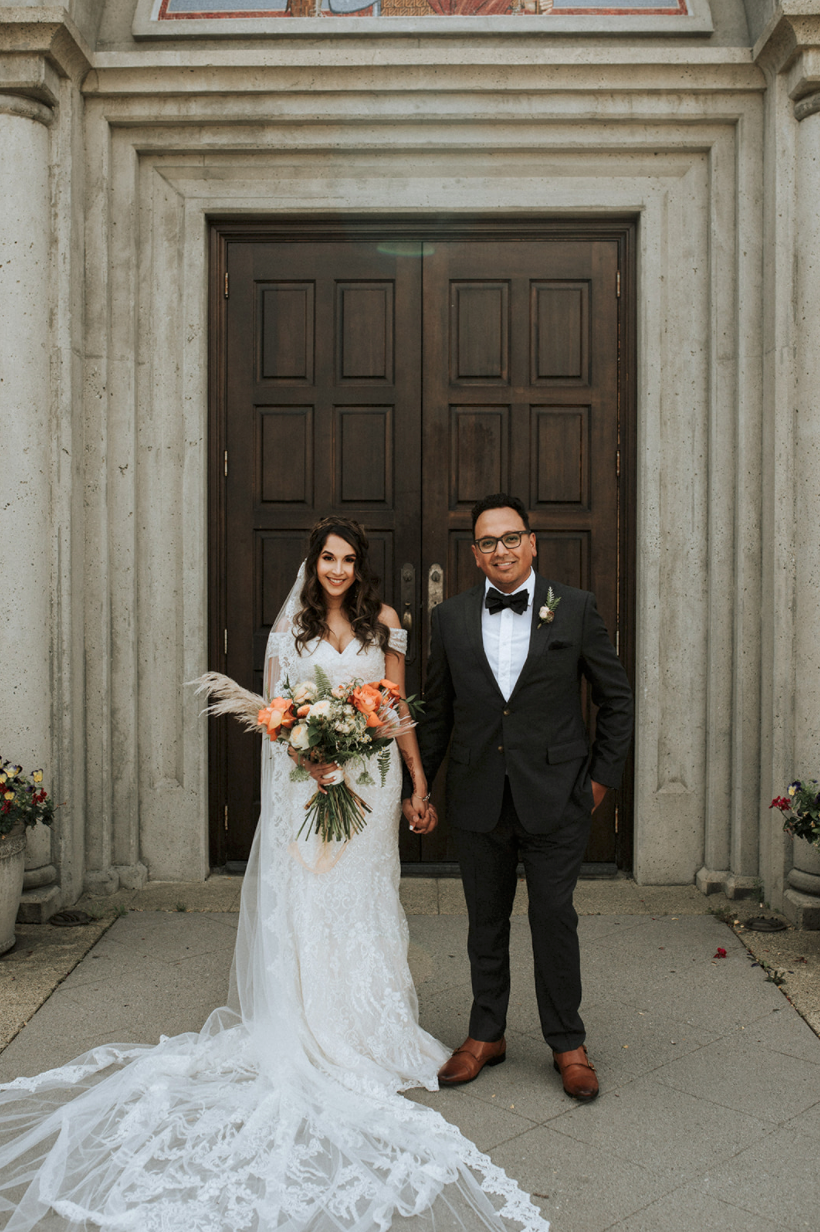 F&D Love Stories | Jared + Razia
Every love story is an intimate collection of memories and feelings. A place to return when the world needs a reminder of what is tender and true. 
The Foe & Dear team has met many wonderful people who have brought us along in their journey of love.
Jared and Razia are one of those couples. 
Foe & Dear caught up with Jared and Razia to talk about their custom ring process, the early days of their relationship, and how honesty and truth seeking always guided them back to where they belonged.
How did you first meet each other?
We first officially met on the 50 False Creek in front of Granville Island, after Jared strategically sat next to Razia on the bus. We were just getting out of class, both attending Emily Carr University at the time.
What inspired you to chose Foe & Dear for your special day?
After dating a few years, we both knew we wanted to marry. Jared was aware of Raz's fondness of F&D's work, and her sister casually signaled to him to the specific style of engagement ring she'd love, with the marquise cut stone. After seeing Katherine's post of a salt and pepper galaxy marquise diamond ring, Jared knew this was the way to go. Aside from it's stunning beauty and depth, evoking deep outer space, it was also assured to be conflict free. Additionally, we both really value investing in local design work whenever possible.
When the wedding planning started, it was a natural progression to have Katherine also create the wedding bands.
How was the custom design process?
It was very smooth and straightforward. For the engagement ring, there was a fairly specific vision in mind from the start, and it really came down to timing, which Katherine managed to pull off brilliantly. 
For the bands, however, we had a bit more time, so there was more opportunity for creative development. Building on the engagement ring's "galaxy" vibe from the diamond's beautiful inclusions, we wanted to keep Razia's wedding ring thematically related to celestial bodies. 
She worked collaboratively with Katherine on a diamond inset pattern, with etched markings illustrating twinkling stars. For Jared's band, he had always quite loved the hammered ring look, evoking both weathered stone and water caustics. Together, the ring pair expresses a sort of mantra for us: "Head in the clouds, feet on the ground." We want to grow our relationship with the freedom to dream and wonder, yet stay grounded in belief and what keeps us rooted together. 
"They love you for your strengths, but when they also are aware of your flaws and areas for improvement, yet still love you as you are. If their strength of character can help you grow in those areas, then it sounds like a good match."
When did you know they were the one?
Very transparently speaking, somehow pain has a way of focusing and clarifying intention. We briefly split up for a few days after several months of dating, and during that time Jared knew she had always been the one, and he was short-sighted for ever having doubting that. 
Having been married now, and having gone through difficult moments this last year (as many have), the moments showing strength of character have only solidified that we were meant for each other. 
Couple traditions you're excited to continue in your married life
One unique tradition we started, that grew organically from our first date at Osteria Savio Volpe, is specifically going on special date nights to restaurants created by Ste. Marie and/or Glasfurd & Walker. The combination of amazing interior and identity design are a feast for the eyes, and all of these restaurants have incredible food as well, naturally. We finally checked Kissa Tanto off the list last night, and only have a few more to go. 
Advice for people getting ready to take the next step with marriage
Advice is likely best left to those who've stood the test of time in their relationships, and can share from broader lived experiences. That said, I (Jared) have often thought in terms of "must-have's" and "nice-to-have's" when making big life decisions, and Raz and I talked about our thoughts on qualities in an ideal mate for many months while dating early on. I think being open and honest was really healthy, even when it was possibly uncomfortable.
Sharing the reality of where you are at in the moment: knowing the other person has a pretty realistic understanding of your past, where you are at today - your worldview and what makes you tick, and where you want to head in life can go a long way in helping the other person envision aligning paths with you (and visa versa).
They love you for your strengths, but when they also are aware of your flaws and areas for improvement, yet still love you as you are. If their strength of character can help you grow in those areas, then it sounds like a good match.
Hopefully that's a two-way street, and together you can build each other up. And definitely seek out feedback from your community, whether that's family, friends, or others who know you well. Sometimes that outside perspective from someone who is invested in your life, can help guide things along. 
Photos courtesy of Art + The Aerialist by Kat Grabowski and Jared & Razia Korb.