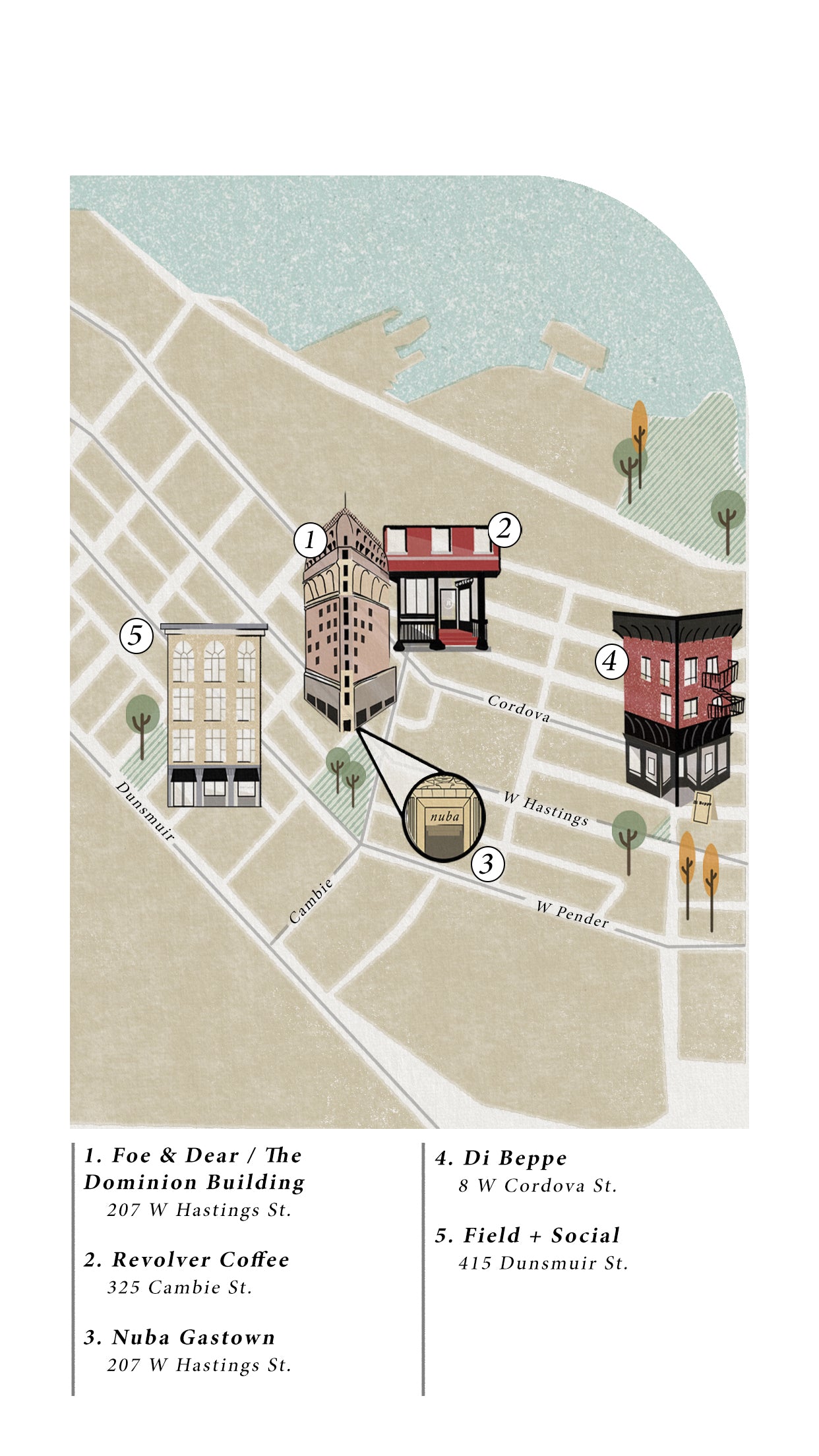 Foe & Dear has called the Dominion Building home for over seven years. Our studio is located in Gastown, a neighbourhood full of vibrant Vancouver history. During that time we've had the pleasure of creating wonderful relationships with local eateries and cafes in the area. 
Our team has put together a list of our favourite places to eat and drink. Whether you're dropping by for an appointment with us or taking a stroll through the streets of Gastown, there's a place for everyone.
| Local Lunch Spots |
Nuba - Known for its authentic Lebanese food, their Gastown location is right around the corner from our studio. Our top dish to order is the Najib's Special - a classic crispy cauliflower tossed with lemon and sea salt.
Di Beppe - Described as "a young Italian restaurant with an old Italian soul" this newer member of the gastown community quickly became one of our staple places to eat. The Carbonara with rigatoni or spaghetti is a F&D must have.
Field & Social - When our team is looking for salads full of nutrients that are freshly made, Field and Social is our go-to. Their Kale Caesar Salad is one of our staples.
| Local Coffee Spots |
Revolver Coffee - Famous for its stellar pour over coffee, Revolver's attention to detail and experienced baristas give this spot extra points in our book. 
Nemesis Coffee - Not only are their drinks delicious, the food menu will have you going back for more. The Nemesis staff is very friendly and serves a unique brunch menu and freshly made pastries.
Kafka's Coffee - The newest cafe to the area, Kafka's prides itself in ethical working practices and supporting fair trade coffee farmers. They're also the first cafe in Canada to brew The Bloom by Espro. Definitely a great place for coffee aficionados. 
Nelson the Seagull - The scent of baked bread fills the air when you enter Nelson. They've created a cozy sanctuary for people to enjoy their baked goods and beverages. Our team's most beloved item off the menu is the Avocado Toast with poached eggs.
What are your go-to's when visiting Gastown? Let us know in our IG Stories.
xx The Foe & Dear Team