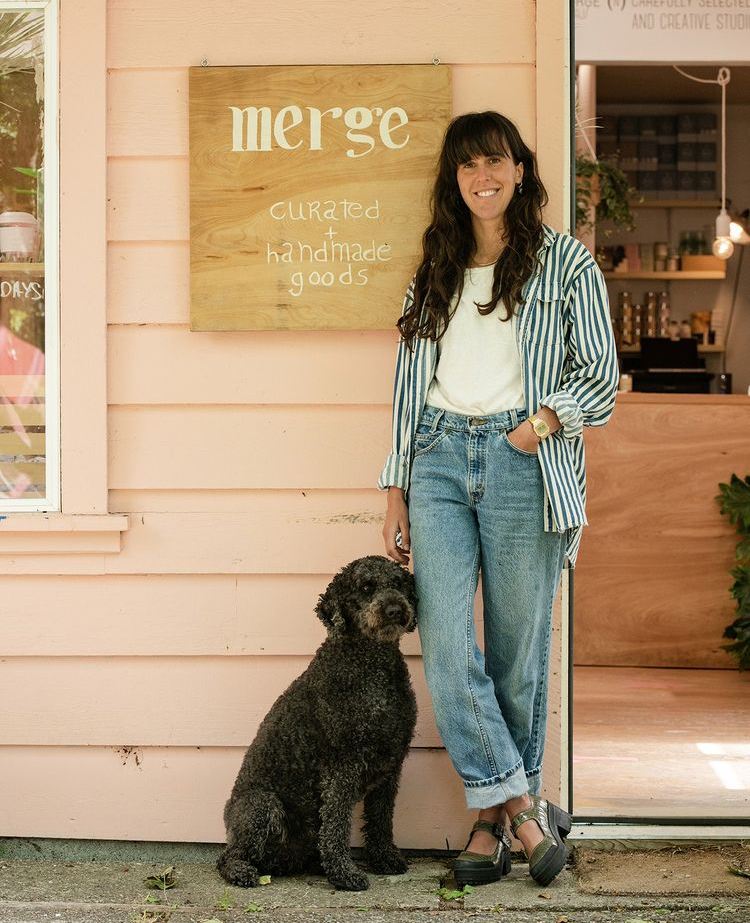 Visual artist, owner, and creative director of one of Tofino's most treasured shops,
Merge
. Her devotion to conscious living, thoughtfully designed products, and nature's intrinsic beauty is lovingly displayed throughout the store.
Foe & Dea
r caught up with
Laurie
to learn more about the journey that led her to Tofino, the ethos behind Merge's visual storytelling, and her natural connection to mother nature.
How does the beauty of nature resonate with the spirit of Merge's vision? 
It resonates very strongly. Merge is more than just goods, we want to inspire people to celebrate the beauty of nature on the daily. Taking the time to slow down, pause to observe the beauty that surrounds us. Celebrating the little things like the way a flower will be imperfectly, yet beautifully dry, an interesting cloud shape or the beautiful greens from the moss on a tree are all worth noticing. 
We also showcase the nature of beauty in various ways within our selection of products: whether it's an object made from pure natural substances where you see the raw colors of things, real ferns pressed into a surfboard fin, a uniquely shaped mug, where you can feel the potter's hands or a fuzzy wool sweater that blooms from being on a journey with us. That's also natural beauty, it's filled with so much joy!
The store is curated with a love for sustainable and handmade goods. What speaks to you the most when finding brands to showcase? 
My first mandate is to find brands that are Canadian and as local as I can. I'm picky too. Well, I always joke that it's not that I'm picky, I just know what I want! And I want the brand to stand out for its quality, ethos, uniqueness, branding and potential. Plus, I don't want to stock ten body creams, for example. I want to stock the one that speaks the most to me, hitting those points above. I want each type of product to shine on their own, so the customers don't have to be lost in choices while shopping at Merge and simply know the one we stock is a good one.  Moreover, some brands really understand the importance of attention to details and branding, which definitely give me butterflies.  Filling our shelves with new beautiful and meaningful products is a real treat!
Simple pleasures of life encompass the ideology of Tofino living. What are your go-tos to connect with yourself and the local community?
To connect with myself, I go for a surf or a beach walk with my headphones, listening to podcasts related to personal growth & culture topics or simply good tunes. Thank you technology geniuses for making noise cancelling wireless headphones, it really allows the personal bubble to take space. As for surfing, it is such a beautiful humbling activity where you are invested, aligned and dancing with the water. Those are two things I do where I truly feel whole, happy and energized.
To connect with the local community, I love to attend events to open up my horizon, check out local artists' stuff as well as buy local and gather with the community when problems arise and things need to be spoken about.
What attracted you to bring the store to life on the west coast?
I went backpacking for a year and fell in love with surfing when I was 21 years old. I moved out west because I wanted surfing to be part of my lifestyle as it became really important for me and Québec City was definitely not offering that to me. Tofino was unknown to me then, but it seemed like a great place to go and work for a summer. Eight years later, I just never left! The store happened so smoothly and organically. Back then, we were actually two people behind Merge. I opened it with one of my best friends Victoria Ashley, who now owns Laundry Day, well-known for their high-end cannabis houseware products.
"Live the life you've imagined. Follow your guts. Trust the paths chosen. Remember, life doesn't always go as planned, but can be better than expected."
Favourite products available right now? 
1. The breakfast-in-bed table: Journaling, writing down new ideas, drinking coffee or Pinteresting on the Ipad while being on the sofa or in bed has never been so enjoyable as it is now with this :)
2. Colette sweater: Our mohair mixed, handknit and naturally dyed Canadian sweater. I wear mine almost every day! So warm, stylish and comfy. Lately, I've been loving wearing it under a tweed secondhand grandpa blazer's style.
3. FLVC tonic: My new daily ritual. I add a couple drops to my now improved water drinking routine, hurray! It gives me the electrolytes and nutrients my body needs. I am also very impressed by this new start-up, it ticks every box I love when looking for a brand: quality, ethos, uniqueness, branding and potential!
4. The Moment De Vie tee-shirt: It hits really close to home. It reminds me of the connection I had with my dog and how we are all a part of one another. I also adore the feeling of the illustration. 
You create all the graphic designs for Merge. How has this grown your love for this artistic practice?
Oh, so much! 
I'm old-school in a way that I still prefer sketching using real paint and paper than using my Ipad, prior to creating a design. I keep notebooks and notes everywhere, a lot of Merge ideas were first born in those. For me, it's a big part of my artistic practice.
I always loved packaging, paper textures, branding concepts, meaningful logos, but it took the opening of Merge for me to realize that graphic design was a huge passion of mine. I did my course in Australia not long after and that was a pivoting moment for me. I loved re-branding the shop and finding its meanings to express its visual identity. My favourite part is the why, the concept of a brand - 
brainstorming using words to fuel ideas.
You can read more about the branding here.
I design the graphics at Merge but also our capsule collection items, as my background in Fashion Design is really helpful. I do a lot of creative direction and there is always an artistic side to it. I'm so lucky and passionate to do this for a living.
Any upcoming launches you're excited about?
Yes :) 2021 is full of projects! Coming soon are two new tee-shirts for the Sunday morning kind of beauty collection. I think they'll be a big hit, really artsy artworks. Also, our new custom blend fragrance Balmy Summer has been such a bestseller and so, we will be launching our Balmy Summer Candle very soon (Shhhh - still a secret). We also have a custom glassware line in the works, an everyday bag, stationary items, a journal about mindfulness, and more!
I have sooo many. I'm a sucker for quotes, mantras, words, etc. My notebook is full of them and bits and pieces of life, I love it! A few that brought a big switch for me in the recent years are ...
1. Be responsible for how you feel, good or bad. You are the one making yourself happy. Don't expect someone will make you whole or fulfill all of your needs. Don't blame others for how you feel, try to not have expectations about things. You're the one controlling how you react to a situation.
2. Why worry? If you can do something about it, do it. If you can't, then don't worry!
3. Don't take anything personally. People act a certain way because of their experiences. You can only be responsible for your part. 
4. Live the life you've imagined. Follow your guts. Trust the paths chosen. Remember, life doesn't always go as planned, but can be better than expected.
5. Listen better. Just recently, I let myself dig more to listen more. If I don't understand what someone meant or is feeling, I ask them to describe more. Pauses are great, it allows someone to really think about what they want to say and I try to not fill in by finishing their sentences. It can be about emotional stuff but also about little everyday things. It's great to not leave a conversation with question marks. 
6. Calm is a superpower.
Photos courtesy of Cristina Gareau and Merge
Follow Merge's journey here.