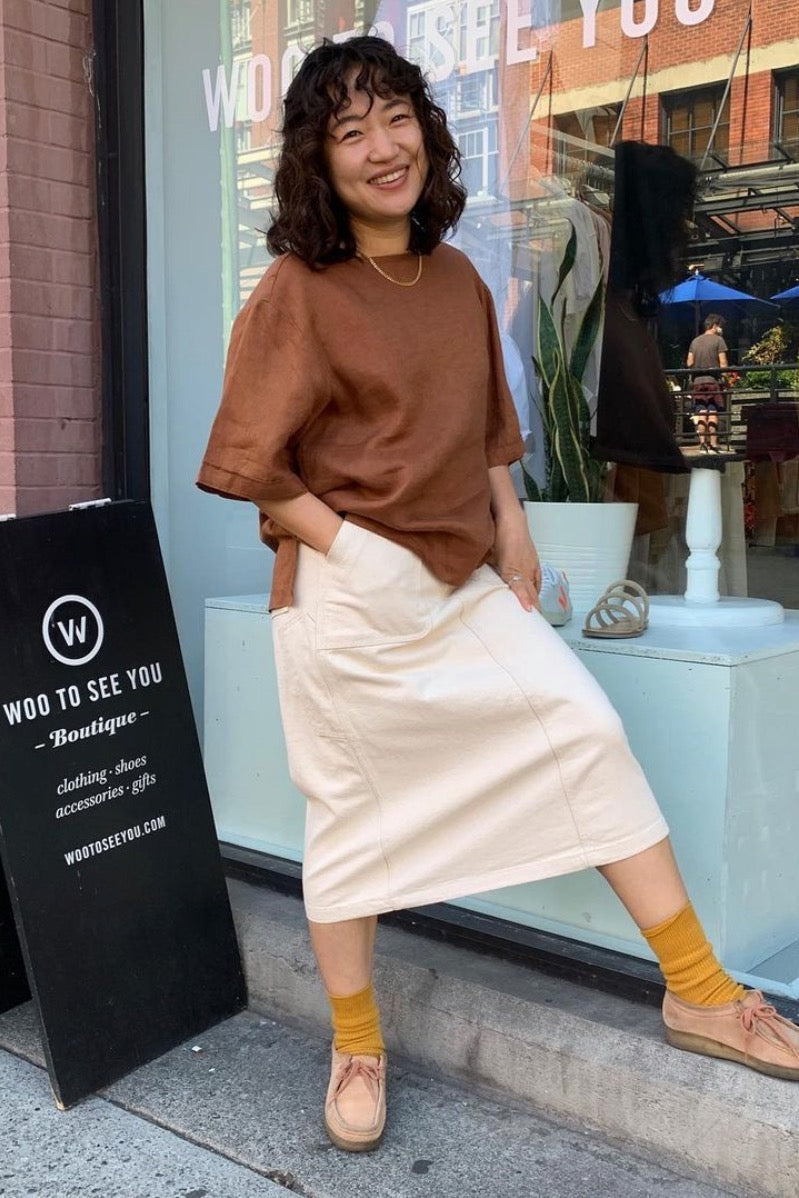 What's In Store | Woo To See You
Meet Hans Woo. 
Owner, curator, and visionary behind one of Foe & Dear's longest retail supporters, Woo To See You. 
We caught up with Hans to learn more about the creation of the store, her admiration for the local customers, and how the Woo To See You team brings love into everything they do.
What was the vision behind Woo to See You?
WTSY was created when I first immigrated here in Canada. I wanted to create something that enabled me to maintain a connecting with home(Korea) and connect me with people here. We love being a small intimate place where everyone feels comfortable and accepted. I think that's who we are and we never want that to change!
Your sense of style is so warm and classic. How has Korean fashion influenced your appreciation for design?
Korean fashion to me is too broad of a term to apply to our style at WTSY. That said, the style we currently aspire to is "easy to wear but make it cute". I grew up in Korea and was exposed to a wide variety of small brands, designs, and different types of stores.
Exploring, checking out clothes, shops, and seeing the different ways people do business is one of my favorite past times. It helps me define what I like and how we want to do business.
You built a curated both locations with your husband and co-owner Justin. How was that creation process?
Justin has done so much for Woo To See You. He's one of our biggest supporters! We started dreaming about this business 2 years prior to opening.
He's worked on the brand and still handles the design and behind the scenes stuff on our website. After we decided to open brick-and-mortar shops, we built out the locations together and of course called in pros for the stuff beyond our capabilities.
He's not really part of the curation process. Our staff deserve more credit for curation. All 4 of us have slightly different styles so it's better to curate together.
What's the best part of being a store owner and creating a fun work environment for all to enjoy?
Having a place to be! I love my staff and our customers. Having a store enables me to be at a location where people can come by when they want to! It's also really meaningful to meet the people behind the brands we carry. We have a small but beautiful community that keeps me happy and inspired!
It's a collective effort to keep this business going. I am so blessed to be working with talented and kind individuals. They do so much for the store and wear so many hats! WTSY is still around because of everyone who helped us along the way, including our current staff!
The biggest shout-out to our store manager Beverly and baby bosses Evelyn and Emily. They are our shop keepers, customer care, buyers, photographers, models, and the list goes on. Thank you and love you!
What qualities do you look for when carrying new brands?
We are looking for new brands everyday. There are so many brands out there. Many of them are great but don't necessarily work for our store. All of us at the shop chat about new brands and share when we see something that could work in the store.
We research the maker, origin, material, and price. We usually see where things go from there. Being a local or Canadian brand is a plus!
What are some of your favourite items in store right now?
Your love for community is at the heart of Woo To See You. What has been one of your most memorable customer experiences since opening?
 Hmmm, so many! I can't pick one!
Over 60% of our customers are returning customers and we have customers we see weekly. They come in to say hi and support us. People send us homemade cookies, flowers, and DMs! They're all really dear to us.
When I think about 2020, the most memorable thing was making contactless deliveries to people who supported us through the shutdown. I know we wouldn't be here without those who supported us. We thank you and love all of you!
Words to live by