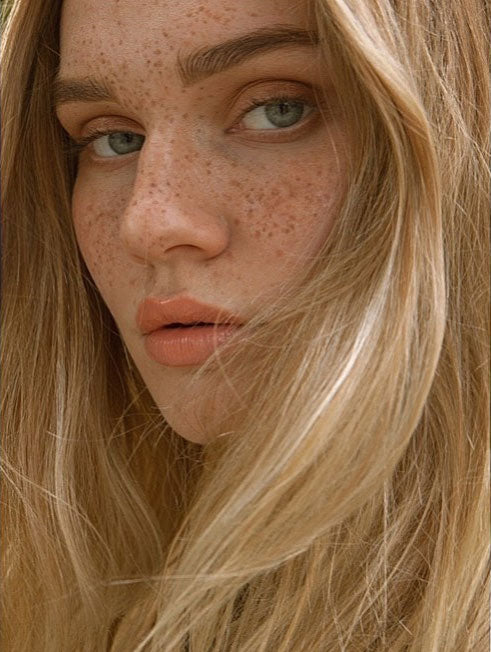 The New Age | Hayley Friedman
Meet Hayley Friedman; exotic animal trainer, dive instructor, and one of Foe & Dear's newest dreamgirls.
We caught up with Hayley about her loves in life - animals, ocean conservation and being true to yourself.
Where did your love for the environmentalism begin?
When I was really young it seemed innate to me that as humans we should not harm the earth or the animals that live in it. I used to visit aquariums and marine parks a lot as a kid, I still do now, but visiting those places when I was young really put it into words for me.
I got to see all these beautiful plants and animals, and an interpreter or an animal trainer would tell me exactly what I had to do to preserve that life in the environment. Needless to say I was completely inspired by these people that turned their passion towards animals into a career.
The second I knew it was possible for me to be the person that sparks that inspiration in other people, I knew I wanted to make it my career and so as I got older I explored my options as an animal care professional.
How has your education with exotic animals expanded your passion to help preserve their habitat?
When I was accepted into the Exotic Animal Training and Management program (EATM) at Moorpark College I thought I already knew a lot about animals, but after two years of working hands-on every single day of the week with animals I learned more than I ever thought was possible.
When you spend every single day with an animal, like how I did with a 36 year old amazon parrot named Cowboy, you become an advocate for that animal's story, and that animal's needs. While I was working with Cowboy I learned that often amazon parrots are taken from the wild as babies to be sold into the exotic pet trade, however, parrots can live anywhere from 60-80 years in some cases, they scream at sunrise and sunset, and they get very attached to their owners.
That being said, if you aren't prepared to make a commitment to an animal like that for it's whole life, you shouldn't get that animal as a pet. It became clear to me, working in a zoo, that most of the animals in our care were once someone's pet that they couldn't take care of anymore.
In my opinion, poaching for the illegal exotic pet trade is one of the most detrimental events happening in our environment currently. Imagine all these species, that are incredibly difficult to be taken care of as pets, taken from their roles in their natural habitats. I find it very crucial to spread awareness now on issues like these that are very prevalent in a society where wealthy people have easy access to getting animals such as tigers as house pets.
Top 5 best moments working at EATM?
I can't even put into words how many amazing moments I had with my animals, but I can try and sum up a few! Getting to spend every day with Cowboy the parrot, I was able to gain his trust and train some amazing behaviors (going into a travel crate without stress, and a blood-draw behavior!).
But mostly the best moments were when my classmates and I discovered that he would scream the word "MOM!" all morning untill I would show up to greet him and give him breakfast! Obviously he doesn't believe I'm his mother but it is possible that Cowboy learned through observation (either from children visiting the zoo or the family he lived with before living at the zoo) that calling for "mom" meant that eventually I would show up and give him attention. Working with that amazing little bird was an honor I'll never forget, I still miss him everyday!
During this program I had the opportunity to train dolphins for a week in northern California and it changed my life. Dolphins are phenomenal creatures and every day when I would walk into the facility the dolphins I was learning about would come right over to greet me. The team of people who were working with these animals were inspiring and hard working individuals who took time to immerse me in their world and teach me as much as possible about caring for dolphins in human care. Getting to work with dolphins felt like being at home, its as if I was meant to do that my whole life!
I also got to attend the IMATA (international marine animal trainer association) conference in Cancun, Mexico. At this conference I attended over 30 paper presentations and learned what zoos and aquariums all over the world are doing for their animals and the contributions they are making towards animal conservation based on what we have learned about from the animals in human care.
The program itself is incredibly challenging. 2 years of waking up at about 5am to work and academic classes until about 5pm (sometimes later), and this included spending Christmas and my birthday at the zoo working with my animals. I had to learn to be flexible, not complain, show quality in my work, and be resiliant. The best moments in the program were where I got to work my hardest to learn the most.
The other best part of the program would be the friends I have made and the memories we all got to share. We got to travel all over the coast together sharing animal experiences and no one else in the world could relate to that type of connection.
"I got to see all these beautiful plants and animals, and an interpreter or an animal trainer would tell me exactly what I had to do to preserve that life in the environment. Needless to say I was completely inspired by these people that turned their passion towards animals into a career." 

 
You are an avid diver as well, can you tell us about any projects you are currently involved in?
Currently I am a DiveMaster working to complete my scuba instructor course so that I can teach people how to scuba dive. Once I have gotten that certification I want to organize dive excursions around the local beaches to pick up trash and tangled fishing wire underwater. I've been involved in many beach clean ups either with friends or with the EATM program and I want to take the next step to clean trash out of the water I dive in so often.
Along with environmental issues and ocean conservation, you make beautiful illustrations. How do you like to connect the two?
I became very inspired by the animals I was working with. I would jokingly make little cartoons of Blossom the Opossum (a 2 year old Virginia Opossum I was training at the zoo) and found that I could pair those cartoons with messaging I would use to tell people about Blossom!
I created the Jiiejo art brand to reflect the inspiration that comes from the surfing culture I grew up with, spreading the message of animal conservation, and a touch of cheeky humor ;) All of the artwork is on sale at jiiejo.com and soon I will be able to donate a percentage of each sale to a wildlife conservation fund! I'm very excited about it.
Words to live by?
Let your work speak for itself, be kind to animals, and no one knows everything <3
Follow Hayley's journey here

Photos provided by Hayley Friedman